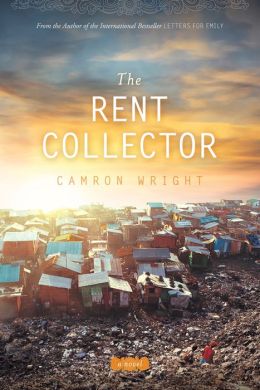 The Rent Collector
by Camron Wright
355 pgs on my iPad
Adult Fiction
Survival for Ki Lim and Sang Ly is a daily battle at Stung Meanchey, the largest municipal waste dump in all of Cambodia. They make their living scavenging recyclables from the trash. Life would be hard enough without the worry for their chronically ill child, Nisay, and the added expense of medicines that are not working.
Just when things seem worst, Sang Ly learns a secret about the ill-tempered rent collector who comes demanding money—a secret that sets in motion a tide that will change the life of everyone it sweeps past. The Rent Collector is a story of hope,, of one woman's journey to save her son and another woman's chance at redemption. It demonstrates that even in a dump in Cambodia—perhaps especially in a dump in Cambodia—everyone deserves a second chance.


First Line:
I once believed that heroes existed only in old men's fables, that evil in the world had triumphed over good, and that love - a true, unselfish, and abiding love - could only be found in a little girl's imagination.
This book is right at the top of my FAVORITE books of ALL TIME and is one I will read again and again. This is an amazing tale with amazing characters. It is a book I want EVERYONE I know to read. Simply fabulous.
Favorite Quote:
"Of all the stories I have read about heroes, and all that I could ever read, of one thing I'm now certain - he is mine." pg. 333
"To this day, if we look carefully around Stung Meanchey, if we search for stories that teach truth and goodness, stories with lessons that can soften and change our hearts - we will discover hope." pg. 338
Read more about the author here.