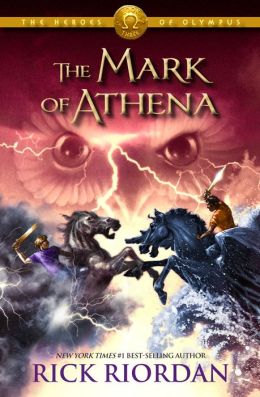 The Mark of Athena
by Rick Riordan
608 pgs.
Juvenile Fiction
Synopsis:
In The Son of Neptune, Percy, Hazel, and Frank met in Camp Jupiter, the Roman equivalent of Camp Halfblood, and traveled to the land beyond the gods to complete a dangerous quest. The third book in the Heroes of Olympus series will unite them with Jason, Piper, and Leo. But they number only six—who will complete the Prophecy of Seven?
The Greek and Roman demigods will have to cooperate in order to defeat the giants released by the Earth Mother, Gaea. Then they will have to sail together to the ancient land to find the Doors of Death. What exactly are the Doors of Death? Much of the prophecy remains a mystery. . . .
Until she met the exploding statue, Annabeth thought she was prepared for anything.
I LOVE this series. I literally had to fight my daughter on who got to read this first...and of course, she won. It's a wonderful book and a great followup to the first two in the series. Can't wait to read more! The House of Hades (the next in the series) will be out in October 2013!
Favorite Quotes:
"She insisted on giving them her cell phone number for emergencies, money for a taxi ride back to the Carter Center, and a jar of homemade peach preserves, which for some reason she kept in a box in her trunk." pg. 180
"Sometimes mortals were even stranger than monsters." pg. 389
Read more about the author here.