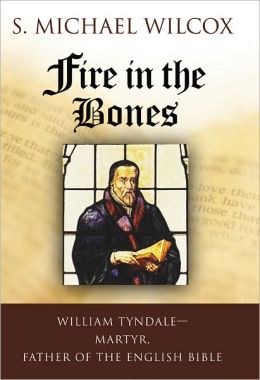 Fire in the Bones
by S. Michael Wilcox
327 pgs on my iPad
The leading personalities of his century would draw upon all their resources to stop him, from the brilliant Sir Thomas Moore to King Henry VIII; from Charles V, ruler of half of Europe, to the Pope. Both church and state hunted him relentlessly-at a time when the church held power over both soul and body and could condemn the heretic to execution by fire. His crime? Translating the words of the Bible into the "vulgar" English tongue.
He was William Tyndale, and the story of his life, told in Fire in the Bones, reads like a novel, as exciting in its facts as any fiction could be. He knew the smugglers' secret marks and their intense, fraternal loyalty. He tasted the salt of shipwreck and knew the despair of lost manuscripts buried under the waves of the North Sea. Intrigue, safe houses, bribes, spies, covert conversations, last-minute flight, aliases, imprisonment, loneliness, all wove their spell into the riddles of his hidden world. He died at last as a martyr, but not before he had bequeathed to the world some of the most beloved and sacred phrases and terms in Holy Writ, including Atonement , still small voice , and Let there be Light there be light.
The nature of God's word is, that whosoever read it, or hear it reasoned and disputed before him, it will begin immediately to make him every day better and better, till he be grown into a perfect man. --William Tyndale
This is an amazing account of William Tyndale, who devoted and gave his life to translating the Bible into English. This man endured much to give scriptures to the people of his time, who were not allowed to read, let alone recite them out loud.
I am truly grateful to the reformers throughout history who gave their lives so selflessly so that the Scriptures may be read by many..."even a plow boy."
Favorite Quote:
"Now faith...is the gift of God, given us by grace...I never deserved it, not prepared myself unto it, but ran another way clean contrary in my blindness, and sought not that way; but he sought me, and found me out, and showed it me, and therewith drew me to him. And I bow the knees of my heart unto God night and day, that he will show it all other men; and I suffer all that I can, to be a servant to open their eyes. For well I wot they cannot see of themselves." pg. 57
Read more about the author here.