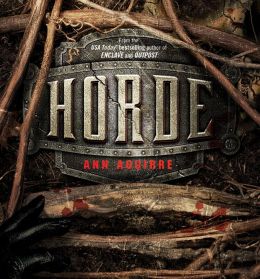 by Ann Aguirre
432 pages
Young Adult
Salvation is surrounded, monsters at the gates, and this time, they're not going away. When Deuce, Fade, Stalker and Tegan set out, the odds are against them. But the odds have been stacked against Deuce from the moment she was born. She might not be a Huntress anymore, but she doesn't run. With her knives in hand and her companions at her side, she will not falter, whether fighting for her life or Fade's love.
Ahead, the battle of a lifetime awaits. Freaks are everywhere, attacking settlements, setting up scouts, perimeters, and patrols. There hasn't been a war like this in centuries, and humans have forgotten how to stand and fight. Unless Deuce can lead them.
This time, however, more than the fate of a single enclave or outpost hangs in the balance. This time, Deuce carries the banner for the survival of all humanity.
I left without looking back.
Holy Amazing, Batman! Thank You, Thank You ANN AGUIRRE for making such a fabulous ending to your fabulous series. I truly enjoyed reading this series and they are books I will read again and again. Seriously. Not joking. At. All. Have I mentioned how much I liked the ending?? I really did.
"This man was everything I needed, my best and brightest dream." pg. 322
"Never underestimate your importance, Millie. You're a hero, same as anybody who fought at the river...and maybe more. Because it takes more courage to heal the world's hurts than to inflict them." pg. 394
Read More About the Author
HERE
!